Today January 31, 2016 marks our one year anniversary of becoming Full-Time RVer's ,living and traveling this great country within a 40' motor home.
In that first year we have traveled about 7550 miles up&down the eastern part of the USA and Canada.
We started from Glens Falls, in Upstate New York and we have stopped & visited 17 states, through 3 time zones They include Maine, New Hampshire, Vermont, New York, New Jersey, Delaware, Pennsylvania, Maryland, Virginia, North Carolina, South Carolina, Georgia, Florida, Alabama, Mississippi, Louisiana and Texas.
Also we visited 3 Provinces New Brunswick, Nova Scotia and Prince Edward Island in the Canadian Maritime.
We have visited Acadia National Park in Maine and spent two weeks visiting the Bay of Fundy and Fundy Provincial Park in New Brunswick, Canada. On our travels we have enjoyed many State Parks, Historic Forts, Battlefields, and Lighthouses We have walked many Historic Roads in beautiful cities like Philadelphia & Washington DC following the steps of our forefathers as they forged a group of states with differing cultures into a nation.
This year's travels were not without some problems and technical difficulties.
Bonnie and I had to learn how to live in a 400 sq ft home with wheels. We were happy to downsize (mostly) but less than 400 square feet with a basement presented a few challenges and took both of us sometime to adjust. We both had to lean how to live simply, think about where to put things and how to access them and to plan ahead. Storage is just one issue to work with.
We have learned to slow down and to travel moderately. Our year has not just be a big Vacation. While we are loving traveling and moving our home from place to place we have found that we need camp days too. Days when we just stay home and be us.
We had some problems with both the motor home and pickup truck. We needed help with the big issues like replacing the leveling system and some body work after a driveway mishap. We are learning how to fix small problems and to attend to monthly maintenance on the motor home ourselves.
All things said we are happy with our decision to live on the road.
We are looking forward to finding new places to travel and explore all across this great big beautiful land we call the "USA".
Here is to the next great year of our on-going journey across America. Westward Ho!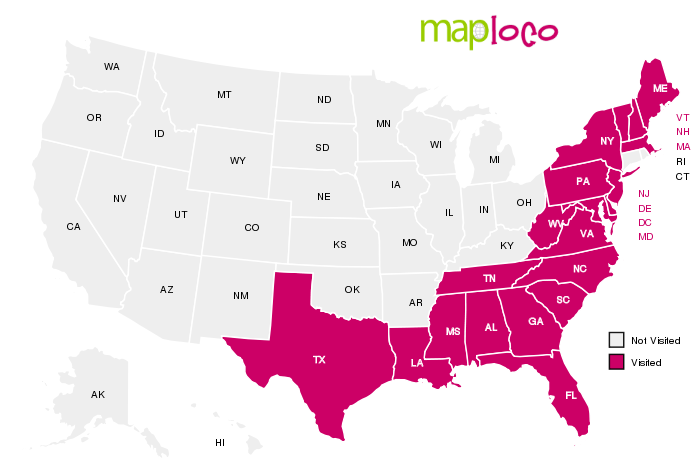 Create Your Own Visited States Map